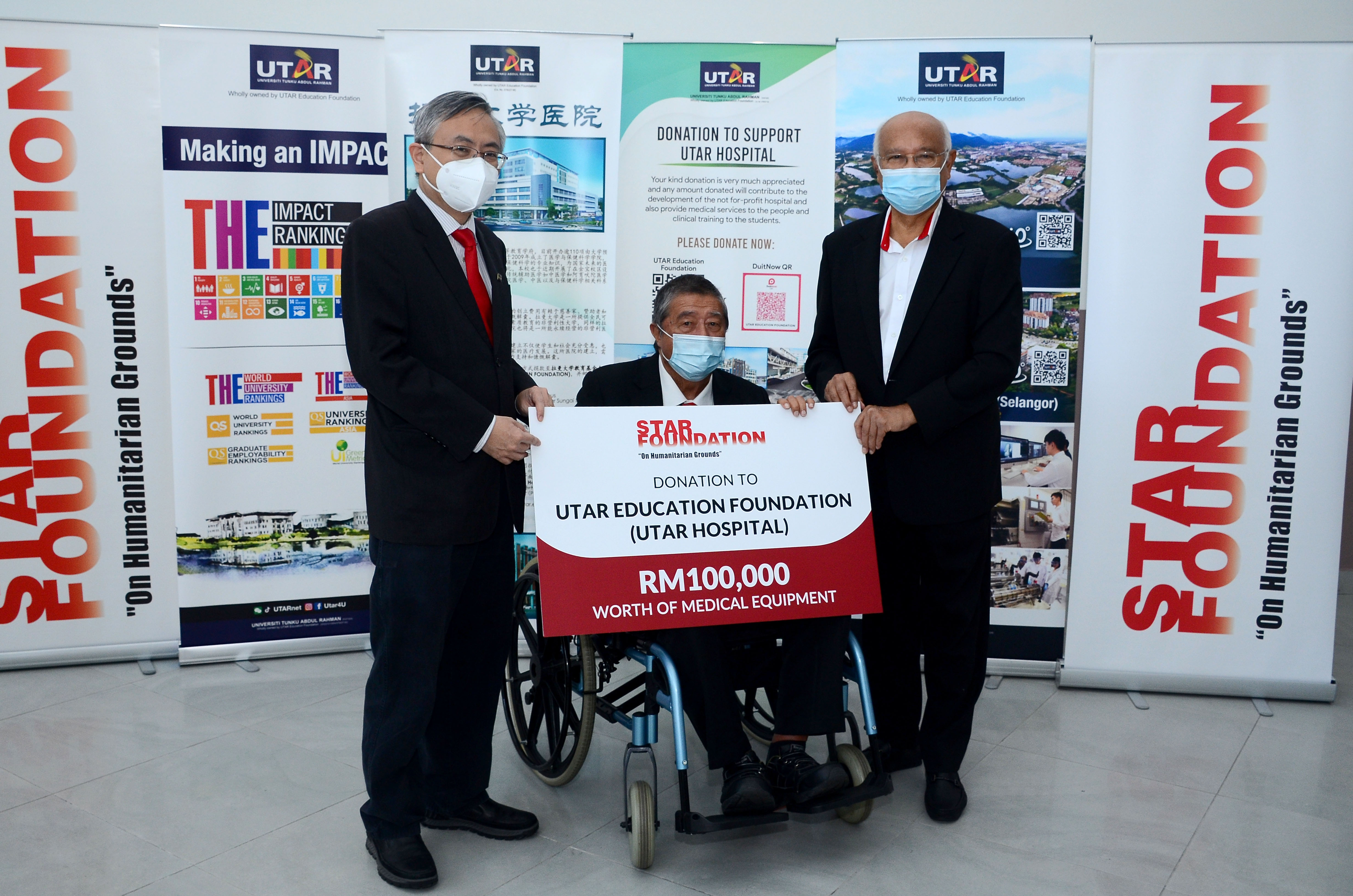 UTAR Education Foundation received RM100,000 donation from Star Foundation in support of medical equipment for the UTAR Hospital project.
A simple ceremony was held on 27 June 2022 to present a mock cheque from Star Foundation Trustee and Star Media Group (SMG) Director Datuk Dr Mohd Aminuddin Mohd Rouse to UTAR Chancellor Tun Dr Ling Liong Sik and UTAR President Ir Prof Dr Ewe Hong Tat.
Datin Joanne Wong, who is the executive director of IOI Corp Bhd's Yayasan Tan Sri Lee Shin Cheng (YTSLSC), was invited to join the ceremony after she attended another event held on the same day, which was the unveiling of the Bargain Basement outlet at UTAR Sungai Long Campus.
Also present at the ceremony were Chairman of the Board of Trustees of UTAR Education Foundation Tan Sri Dato' Dr Sak Cheng Lum, Tun Ling's spouse Toh Puan Ena Ling and UTAR Vice President for Student Development and Alumni Relations Prof Dr Choong Chee Keong.
The fund will be channelled towards the purpose of purchasing a dialysis machine and six units of electrical medical care beds.
UTAR Hospital was set up by the university as its not-for-profit hospital to provide high-quality and affordable health care services in both Western and alternative medicines, which are comprised of Chinese, Ayurvedic and traditional Malay medicine.
For more details about UTAR Hospital, please visit https://www.utar.edu.my/.