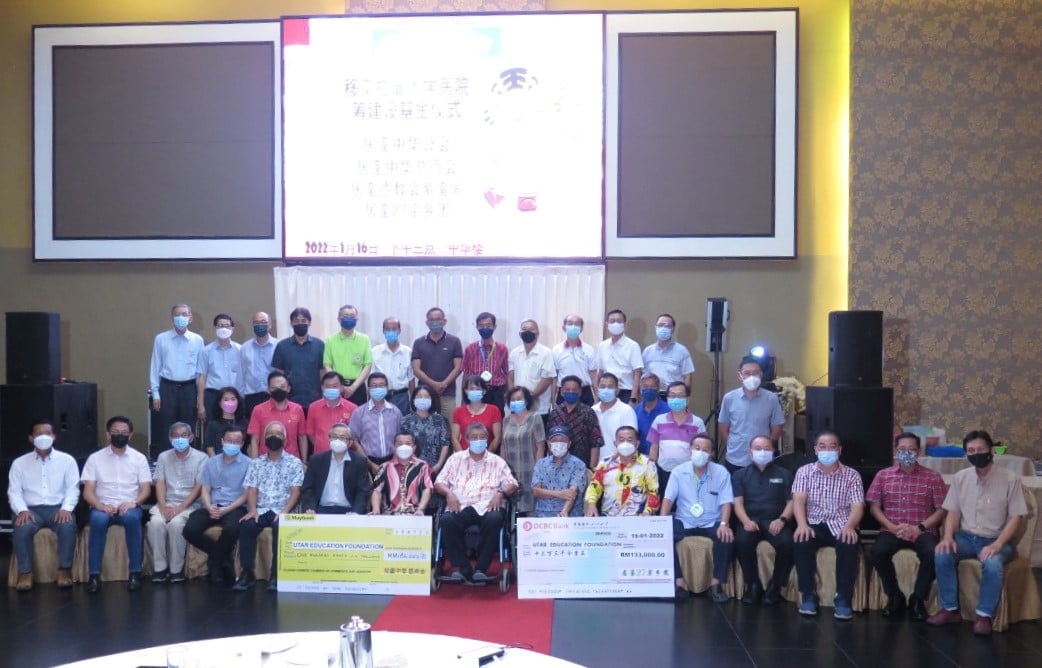 UTAR received more than RM400,000 from various associations and clubs in support of the UTAR Hospital. This included RM138,000 from 27 Chinese associations in Kluang and RM186,000 from the Kluang Chinese Chamber of Commerce and Industry (KLUCCCI). Another RM114,500 was collected through a golf tournament organised by the Kluang Tiger Club as well as a charity dinner.
A mock cheque presentation ceremony was held on 16 January 2022. Present on behalf of UTAR to receive the mock cheques at the Kluang Tiong Hua Association building were UTAR Chancellor Tun Dr Ling Liong Sik, UTAR President Ir Prof Dr Ewe Hong Tat and UTAR Council Members Datuk Lim Si Cheng, Dato' Sri Dr Hou Kok Chung and Datuk Lee Leck Cheng. Also present were Kluang Tiong Hua Association President Datuk Jimmy Low Boon Hong and Kluang Tiong Hua Association Deputy Chairman Datuk Chai Young Fook.
Tun Ling expressed his heartfelt gratitude to all who donated. He mentioned that it was encouraging to see many step forward to contribute to the UTAR Hospital in Kampar, Perak.
Prof Ewe, on the other hand, said that he was moved to see the strong support coming from the Kluang community. He mentioned that the strong support from the people had been a significant source of motivation for the University.
UTAR would like to thank the 27 Chinese associations in Kluang, KLUCCCI and Kluang Tiger Club for this generous donation.