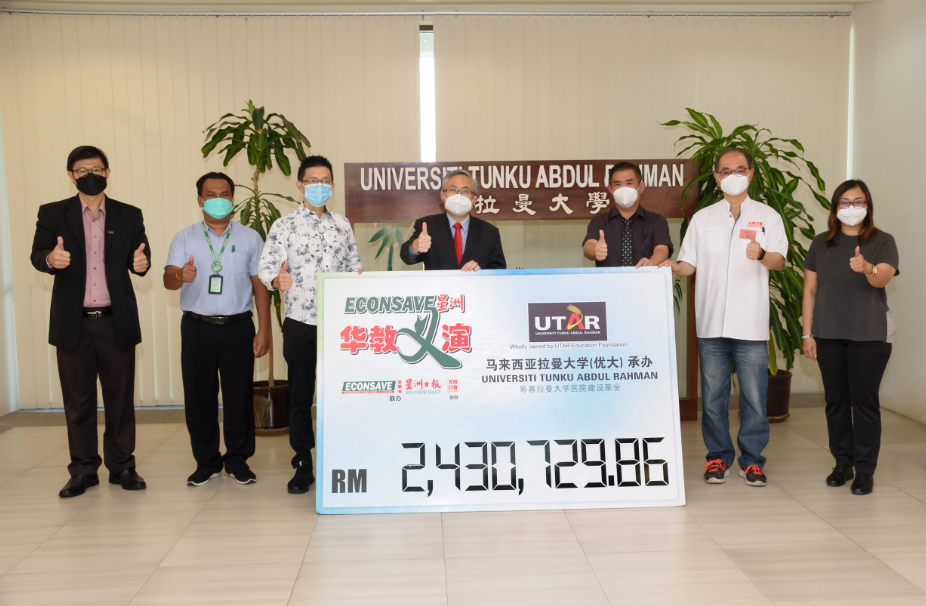 Thanks to the joint efforts of Econsave, Sin Chew Daily, Guang Ming Daily and UTAR, the Econsave Sin Chew Charity Show successfully raised a total of RM2,430,729.86 for UTAR Hospital. The total final amount of the donation was announced at the closing ceremony of the Econsave Sin Chew Charity Show, organised by UTAR on 18 February 2022 at UTAR Kampar Campus.
The ceremony was led by UTAR President Ir Prof Dr Ewe Hong Tat, Econsave Cash & Carry Sdn Bhd General Manager Chua Yong Chiang and Sin Chew Media Corporation Bhd Communications and Promotion General Manager Tan Kim Chuan.
Also present were Penang Guang Ming Daily Deputy General Manager Ng Hee Kuang, Penang Guang Ming Daily Deputy Manager of Business Promotion Hor Yong Wei, Econsave Kampar Branch Manager Tow Ching Herng, UTAR Vice President for Student Development and Alumni Relations Prof Dr Choong Chee Keong, UTAR Department of Soft Skills Competency (DSSC) of Kampar Campus Head Hee Chwen Yee, journalists and UTAR staff.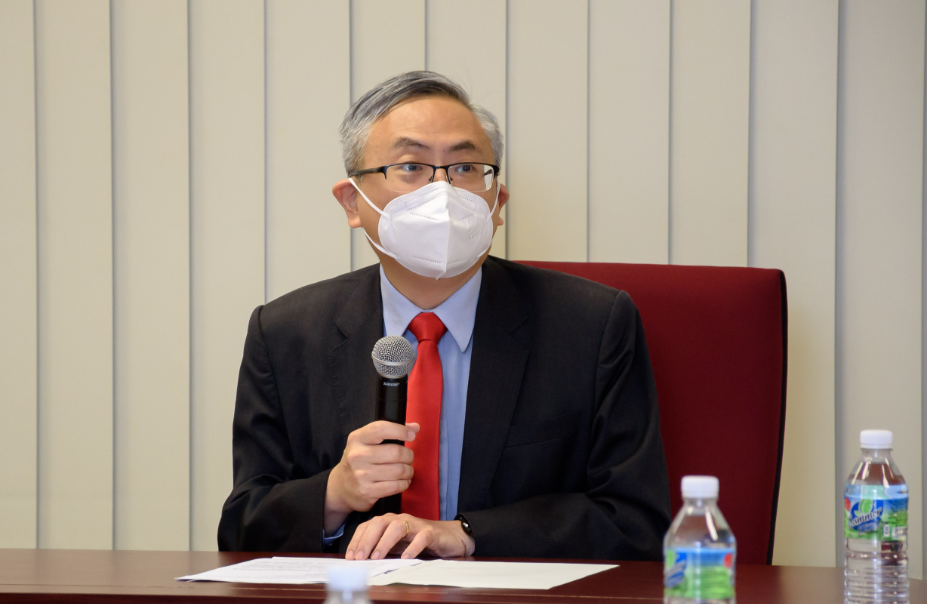 Prof Ewe in his speech briefly introduced the series of activities that took place throughout the fund-raising period which was held from 22 September 2021 to 31 December 2021. He said, "We are glad to announce that Econsave Sin Chew Charity Show has successfully raised more than the targeted amount, which is RM2,430,729.86 for the hospital. What moved us was the many small donations that came through digital platforms; this shows that the hospital is receiving massive support from the general public."

He added, "It is not easy to hold a fundraising event during these challenging times, and I am truly thankful and grateful to have achieved such an inspiring fundraising success. On behalf of the UTAR Education Foundation, I would like to express my heartfelt gratitude to those who donated enthusiastically; also to Econsave, Sin Chew Daily, Guang Ming Daily, the performers, and all the parties who contributed to the success of this charity show." He then explained the construction progress of UTAR Hospital.
Expressing his appreciation to all the donors, Tan said, "The speed of the fundraising process was truly amazing. It saw an increase of more than RM760,000 in merely three weeks; from RM1,666,888.00 in early December to RM2,430,729.86 by the end of December. We realised the donations for the hospital came from many unsung heroes. It is undeniable that Malaysia's educational development today, which has gained brilliant achievements, is also contributed by these unsung heroes. However, for the hospital to retain its original aspiration and long-term operation, long-term donations from society are needed to continue providing reasonable and affordable medical services to the members of the public. I am looking forward to the UTAR Hospital opening soon."
Chua revealed, "Since 2017, Econsave has collaborated with Sin Chew Daily and Guang Ming Daily to provide a platform for schools in need by organising charity shows for fundraising, with the hope that it will serve as a starting point for the community to contribute to education. We are honoured to be part of this fundraising event for UTAR Hospital, a meaningful initiative to nurture medical talents as well as provide medical services to the community and nation."
The ceremony ended with a mock cheque presentation and a visit to the hospital site.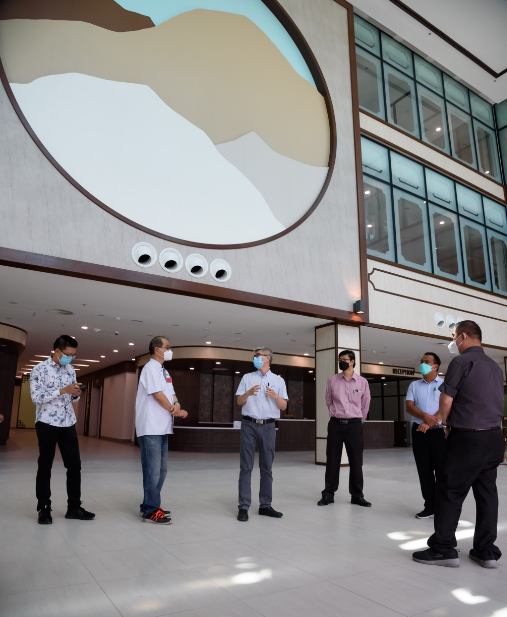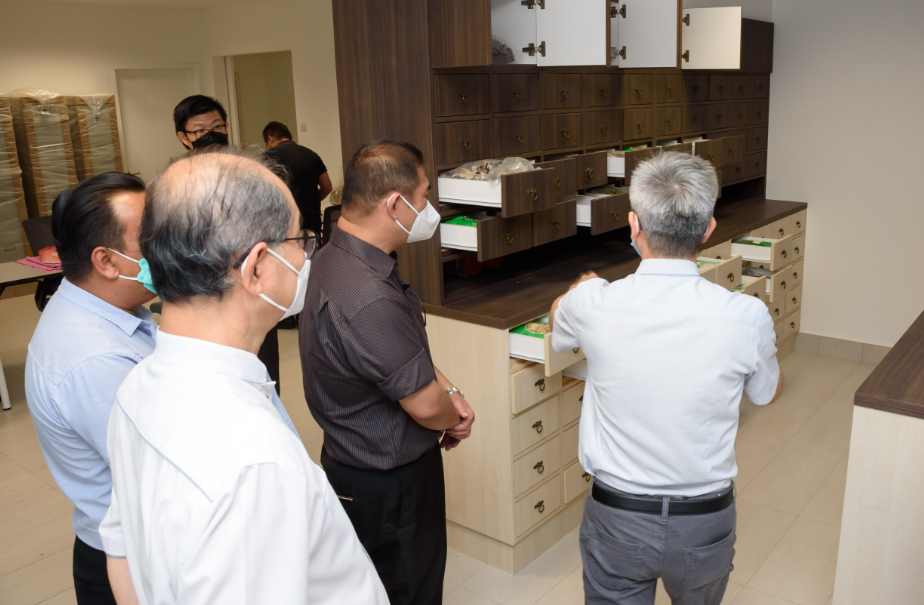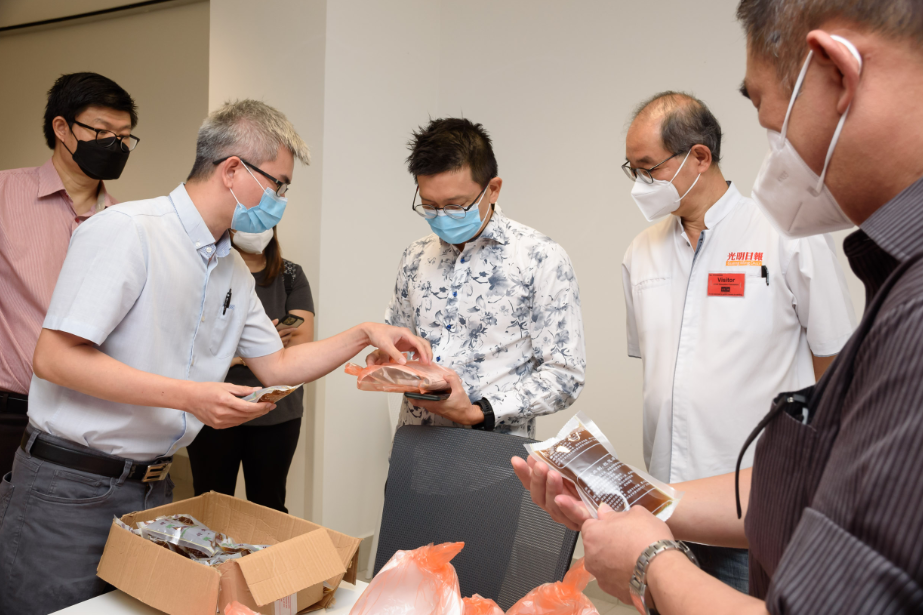 Read more for articles related to the Econsave and Sin Chew Daily Charity Show:
More funds raised by Econsave and Sin Chew Daily Charity Show for UTAR Hospital Project
Econsave Sin Chew Charity Show successfully raised funds for UTAR Hospital
Press conference promotes Econsave and Sin Chew Daily Charity Show for UTAR Hospital
Econsave and Sin Chew Daily hold press conference on charity fund-raising show for UTAR Hospital