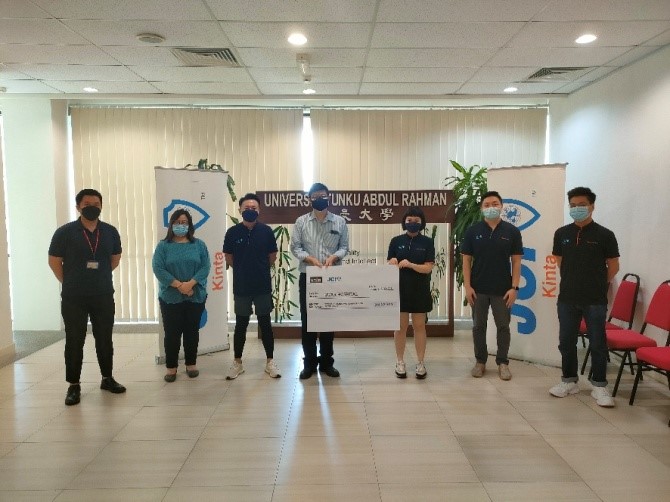 The collaboration established between UTAR and JCI Kinta since December 2020 was more than just to organise a series of virtual activities aimed at developing entrepreneurship and interpersonal skills among youth. The eight virtual activities organised under the "Youth Entrepreneurs' Mastermind Series", beginning from Dec 2020 to November 2021, also successfully raised RM2,211 which will be donated to the UTAR Hospital project.

Present to receive the mock cheque on behalf of UTAR was Vice President for Student Development and Alumni Relations Prof Dr Choong Chee Keong. The mock cheque was presented by President of JCI Kinta 2021 Mooi Ying Xian. Also present were Department of Soft Skills Competency (DSSC) of Kampar Campus Head Hee Chwen Yee, DSSC Kampar assistant lecturer Fong Kah Hoong, President of JCI Kinta 2022 Jasper Ngai, Vice President Business of JCI Kinta 2022 Ethan Cheah and Vice President Community of JCI Kinta 2022 Randolph Tan.

Beyond the success of raising funds for the UTAR Hospital project, the virtual events also benefitted participants with opportunities to acquire new knowledge and skills, and expand existing knowledge which also gave participants new perspectives on various topics.

The virtual forum on "Embracing New Normal to Workforce in 2021" created a platform for participants to learn about the views of Non-Governmental Organisations (NGOs) and local agencies on the current working trends. The forum also enabled participants to acquire the necessary skills to face the new normal working environment and saw participants applying critical thinking skills on overcoming issues that they would face in the new working environment. Gender equality was highlighted in the virtual forum titled "Impact of the New Normal in Gender Inclusiveness", whereby participants and speakers shared their views, and it served as a platform to empower young women's rights.

Meanwhile the "Journey of an Entrepreneur's Partnership" provided participants insights on successful partnerships and the impacts of the pandemic towards start-up entrepreneurs. On a more exciting note, the "Turn Passion into Digital Business" and "Exploring the Path of E-commerce Platform" virtual events taught participants the way to make their digital businesses successful, as well insights on understanding the challenges and opportunities of the e-commerce industry. Meanwhile, the virtual event titled "Building Your Path to Success through Entrepreneurship" further enlightened on entrepreneurship. It saw participants learning about building a sustainable business model.

"How Big Data Analytics is Fuelling Business to New Heights" discussed the evolution of big data and the skills to access big data. Participants also gained a further understanding on Artificial Intelligence (AI) and machine learning. With the pandemic presenting challenges to everyone, the "Pre & Post Pandemic: Transformation of F&B Industry" highlighted the transformations that occurred and ways the F&B businesses used to ensure its survival. The virtual event further provided participants with new ways F&B businesses can adapt and thrive in difficult times. Despite the pandemic, the virtual events provided an escape for participants to make learning fun and enjoyable.