UTAR Institute of Chinese Studies (ICS) organised the "Donate a Piece of Meditation, Donate a Piece of Compassion – Master Ji Cheng's Calligraphy and Painting Exhibition – UTAR Hospital Fundraising Activities" from 11 until 13 March 2022 at UTAR Sungai Long Campus.

Master Ji Cheng donated 51 calligraphy and paintings to UTAR for an online charity sale for the construction of UTAR Hospital. The calligraphy and paintings were also displayed at UTAR Sungai Long Campus Multi-Purpose Hall (MPH). Donors who donated RM10,000 (USD 2,500) or above will get a piece of artwork, and all the proceeds will be channelled to the funding for the UTAR Hospital project.

Gracing the opening ceremony of the exhibition were Dean of Malaysian Buddhist Institute, Abbot of Puzhao Temple, and Donor Master Ji Cheng; UTAR Council Member Dato' Sri Dr Hou Kok Chung; UTAR President Ir Prof Dr Ewe Hong Tat; Siang Heng Plastic Ware Sdn Bhd Managing Director Dato' Teoh Boon Thong; Chee Hin Kooi from Asashi Group; Representative of Yayasan Belia Buddhist Malaysia Yeoh Kia Gee and UTAR Institute of Chinese Studies Dean Assoc Prof Dr Chong Siou Wei.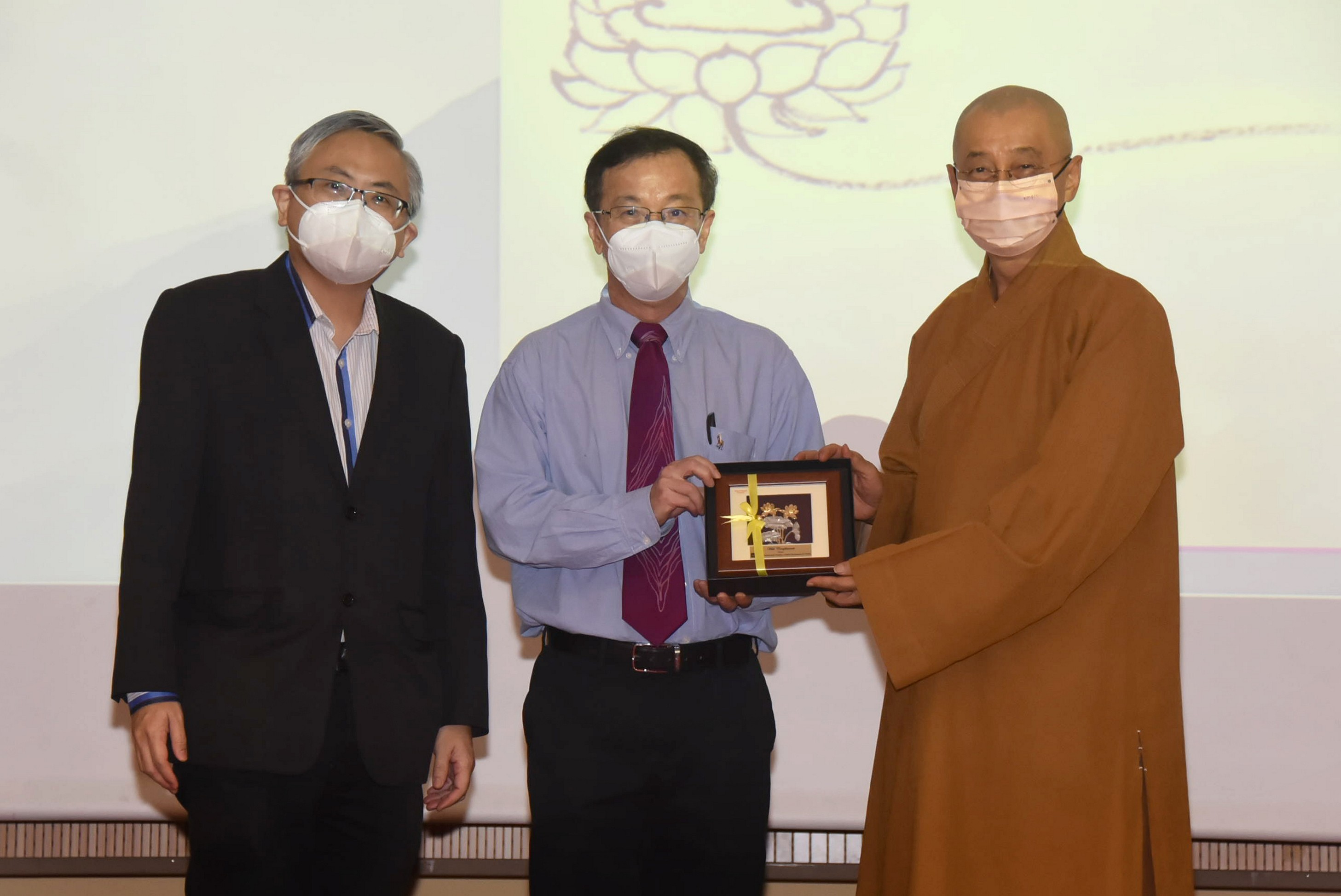 In his remarks, Dato' Hou said, "This year marks the 20th anniversary of UTAR. Everyone is working hard for the University." He added, "It takes 10 years to grow trees but a hundred to educate people. UTAR has always been teaching students to become professionals, to deal with various challenges and to improve themselves in terms of quality."
On the other hand, Prof Ewe expressed his gratitude to Master Ji Cheng for the contribution of his calligraphy paintings to support the UTAR Hospital Project. He hoped that participants who liked the artwork would collect them through donations which could help with the establishment of the Hospital.
He said, "The establishment of UTAR Hospital has far-reaching benefits and great significance for the field of education and medical field. I believe that UTAR Hospital will give back to society and cultivate medical talents as well as provide the community with high-level and high-quality medical services."
Master Ji Cheng expressed that he was very pleased to see the establishment of the UTAR Hospital and to contribute towards the Hospital. He said, "Hospitals are a very important construction in our entire society. Hospitals play an important role, especially during the current COVID-19 outbreak."
He also emphasised the importance of physical and mental health. He said, "Our mentality must be healthy as the body and mind work together as one. If one's mind is healthy, one's body will be better. This will give him the ability to face reality and obstacles."
It is hoped that whoever attended the exhibition could feel the compassion and attain enlightenment from the calligraphy and paintings implying Zen (禅). Donors who collected Master Ji Cheng's calligraphy paintings could achieve the purpose of compassion by giving back to the medical needs of society through charitable donations for the establishment of UTAR Hospital. To view Master Ji Cheng's collection of calligraphy paintings, kindly visit https://jc-ics.utar.edu.my/.

UTAR Hospital is a not-for-profit hospital that provides quality and affordable medical and healthcare services in Western Medicine and Traditional and Complementary Medicine including Chinese, Ayurvedic, and Traditional Malay Medicine and also clinical training for its medical and health sciences students. The establishment of this hospital not only benefits students and society but also benefits the medical development of the country. For more details about UTAR Hospital, click https://hospital.utar.edu.my/.