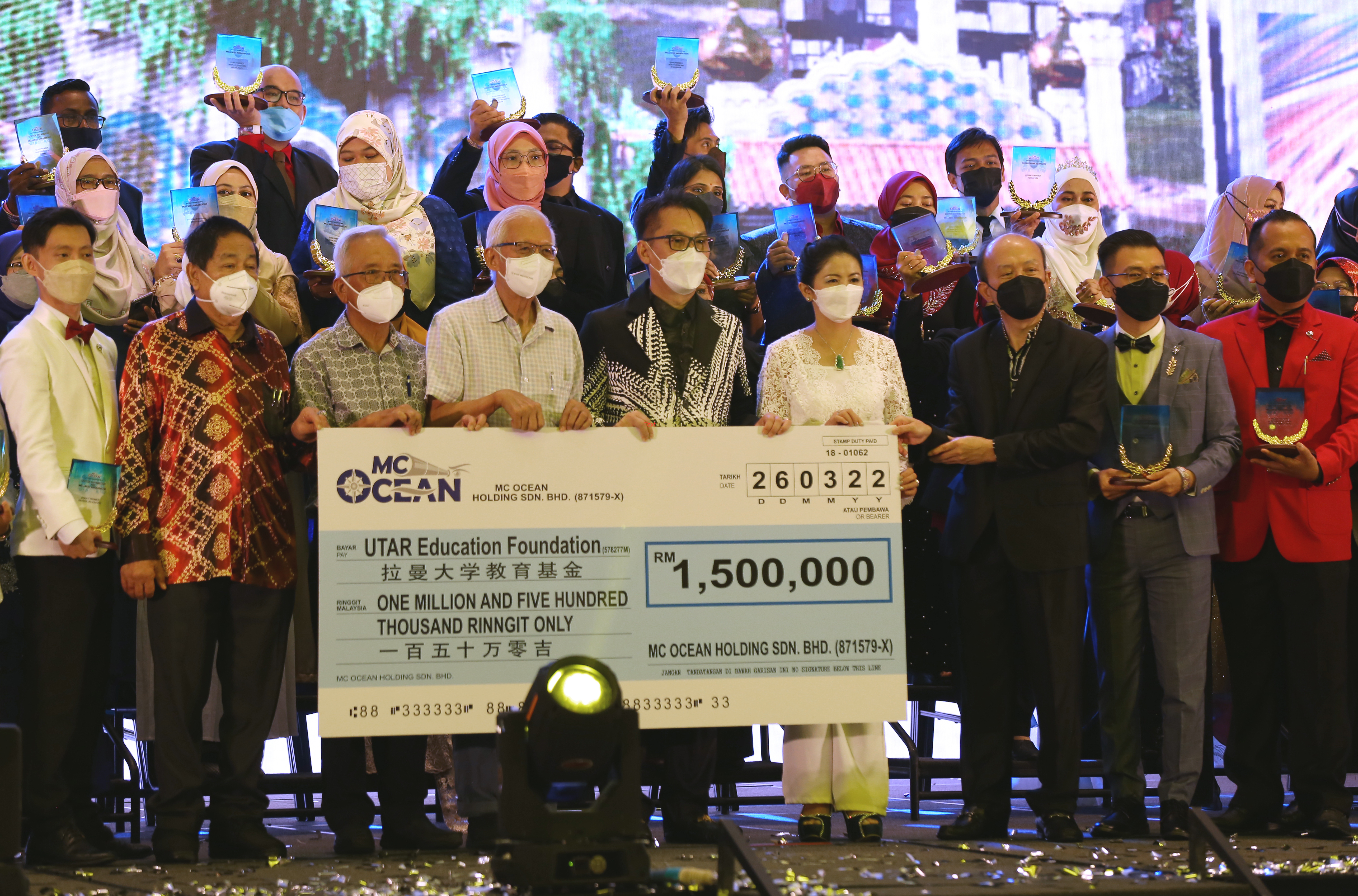 MC-Ocean Holding Sdn Bhd donated RM1.5million to UTAR Hospital. The mock cheque handover ceremony was held in Penang on 26 March 2022.
The mock cheque was presented by Founder-cum-CEO of MC-Ocean Holding Sdn Bhd Dato' Sri Pearson Chia Tian Chai along with his wife Executive Director of MC-Ocean Holding Sdn Bhd Datin Sri Lilen Tan Lee Then and Director of MC-Ocean Holding Sdn Bhd Datuk Sri Md Yusop Harmain Shah to UTAR Education Foundation Board of Trustees Chairman Tan Sri Dato' Dr Sak Cheng Lum and UTAR Council Member Datuk Lim Si Cheng.
Tan Sri Sak thanked MC-Ocean Holding Sdn Bhd for the invaluable support and generous contribution towards UTAR Hospital. This support, according to him, will greatly benefit not only UTAR's medical and health science students who will receive training at the hospital but also the community of Kampar and surrounding towns who will benefit from the affordable medical services in Western, Traditional and Complementary Medicine.
The setting up of its own not-for-profit teaching and community UTAR Hospital will be a significant milestone that will not only offer affordable and quality basic and specialist medical services to the students and the public but also provide clinical training for the Bachelor Degree in Medicine, Bachelor Degree in Surgery (MBBS), Traditional Chinese Medicine (TCM) and Health Science students in the Faculty.
UTAR Hospital is a not-for-profit hospital that provides medical and health services to the community and practical training for the University's medical students in the Faculty of Medicine and Health Sciences. The establishment of UTAR Hospital will also benefit Kampar and the surrounding communities with increased socio-economic activities and better access to quality medical services.

For more information about the UTAR Hospital and donations to the hospital, please go to the following website: https://hospital.utar.edu.my/ .