UTAR Traditional and Complementary Medicine (T&CM) Centre organised Hospital Volunteer Training on 21 May 2022 at UTAR T&CM Centre. With the aim to provide training to the volunteers, as well as equip them with a deeper understanding of the hospital volunteers' duties and responsibilities, the training programme successfully attracted UTAR students, staff and members of the public.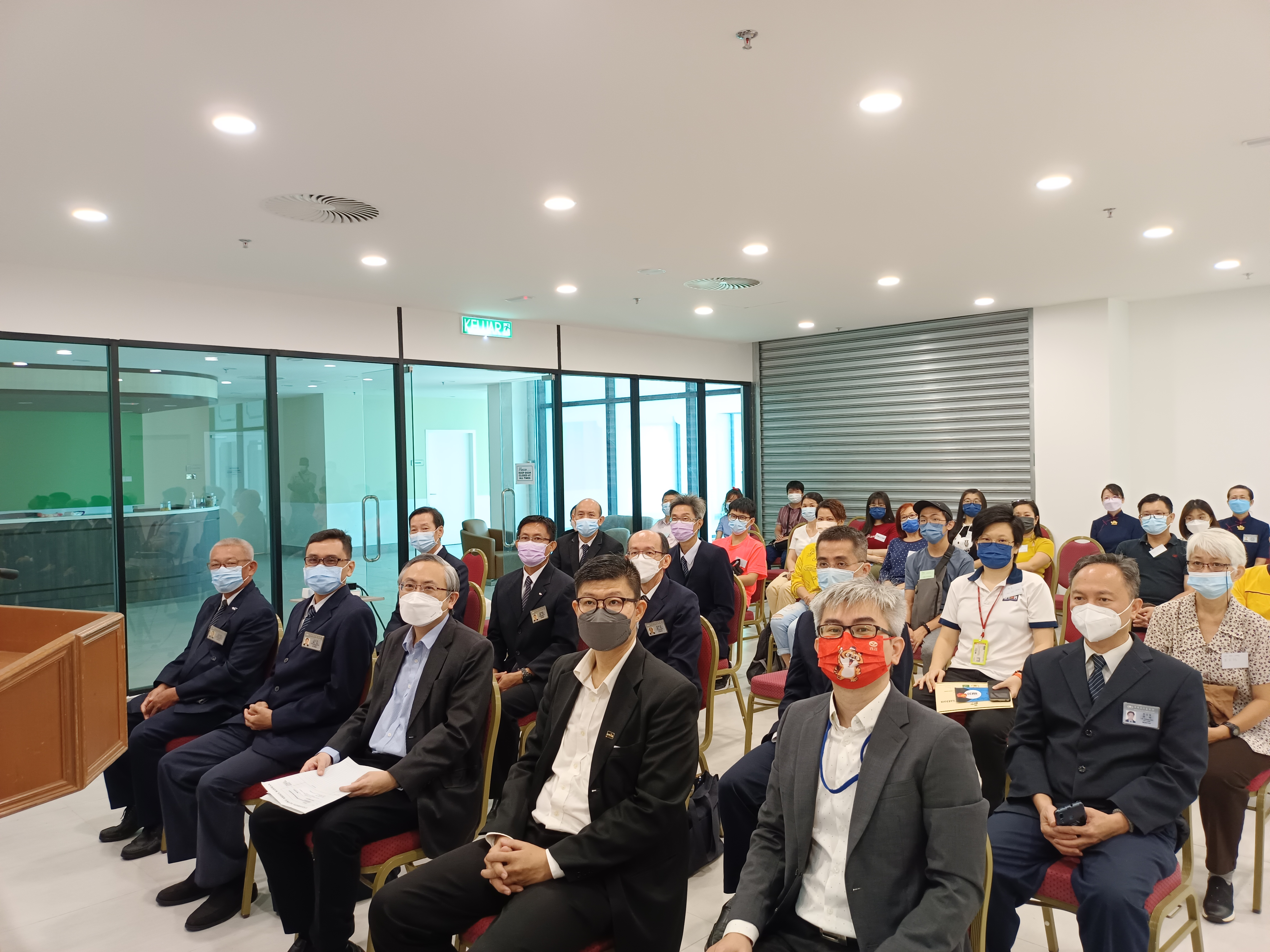 Present at the opening ceremony were UTAR President Ir Prof Dr Ewe Hong Tat, Buddhist Tzu-Chi Merits Society Malaysia Medical Mission Commissioner Member Choo Yoong Chang, Buddhist Tzu-Chi Merits Society Malaysia Perak Person In Charge Wong Chong Yin, UTAR Vice President for Student Development and Alumni Relations Prof Dr Choong Chee Keong, T&CM Centre Director-cum-Principal Practitioner Assoc Prof Dr Te Kian Keong, esteemed guests from Tzu-Chi, UTAR Hospital staff and UTAR staff.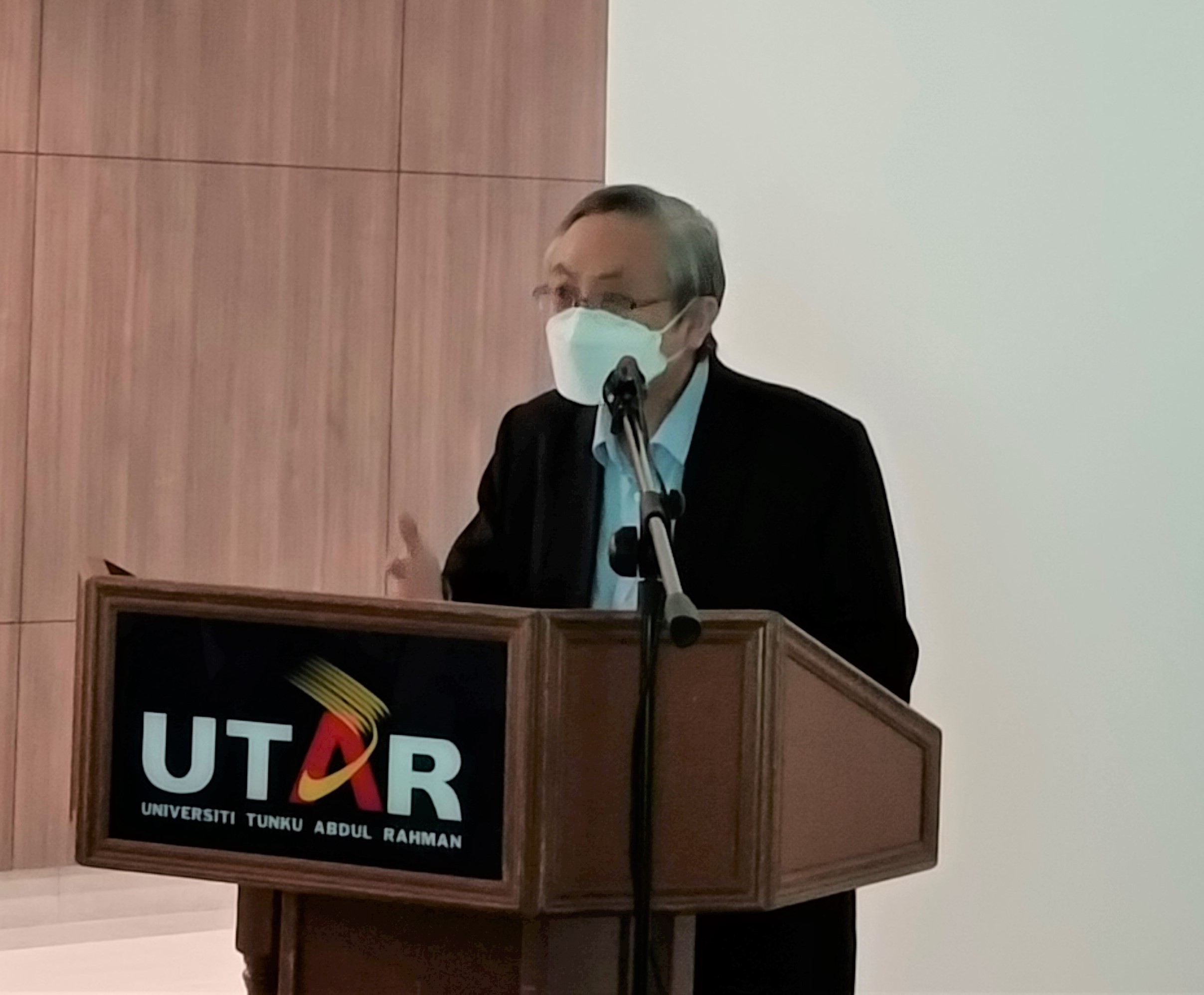 In his welcome speech, Prof Ewe expressed his sincere appreciation to the volunteers for their kind participation. He also thanked Tzu-Chi Malaysia for their continuous support over the years. He revealed, "UTAR and Tzu-Chi had been memorandum of understanding (MoU) partners since 2014, and both parties have a close relationship in various aspects; Tzu-Chi provided volunteer supports to assist UTAR Pusat Pemberian Vaksin (PPV), early childhood education talent cultivation, silent mentor programme and many more. We are also very grateful to the experienced Tzu-Chi volunteer team for helping with our hospital training programme and sharing about volunteer services and professional knowledge with the participants."
"The T&CM Centre had received a good response since its establishment in April. There are many elderly people who do not speak fluent Malay or English. Therefore, with the help of the volunteers, the barriers in language communication are avoided, thus making the medical treatment process smoother. At the same time, volunteers play an important role in providing assistance to patients/visitors who are new or not familiar with the operation of the centre. Therefore, we look forward to seeing the volunteering services of UTAR Hospital grow gradually and develop into a systematic and orderly service system; staff and volunteers work together to improve the operation of UTAR Hospital and make UTAR Hospital a loving and caring medical institution," he added.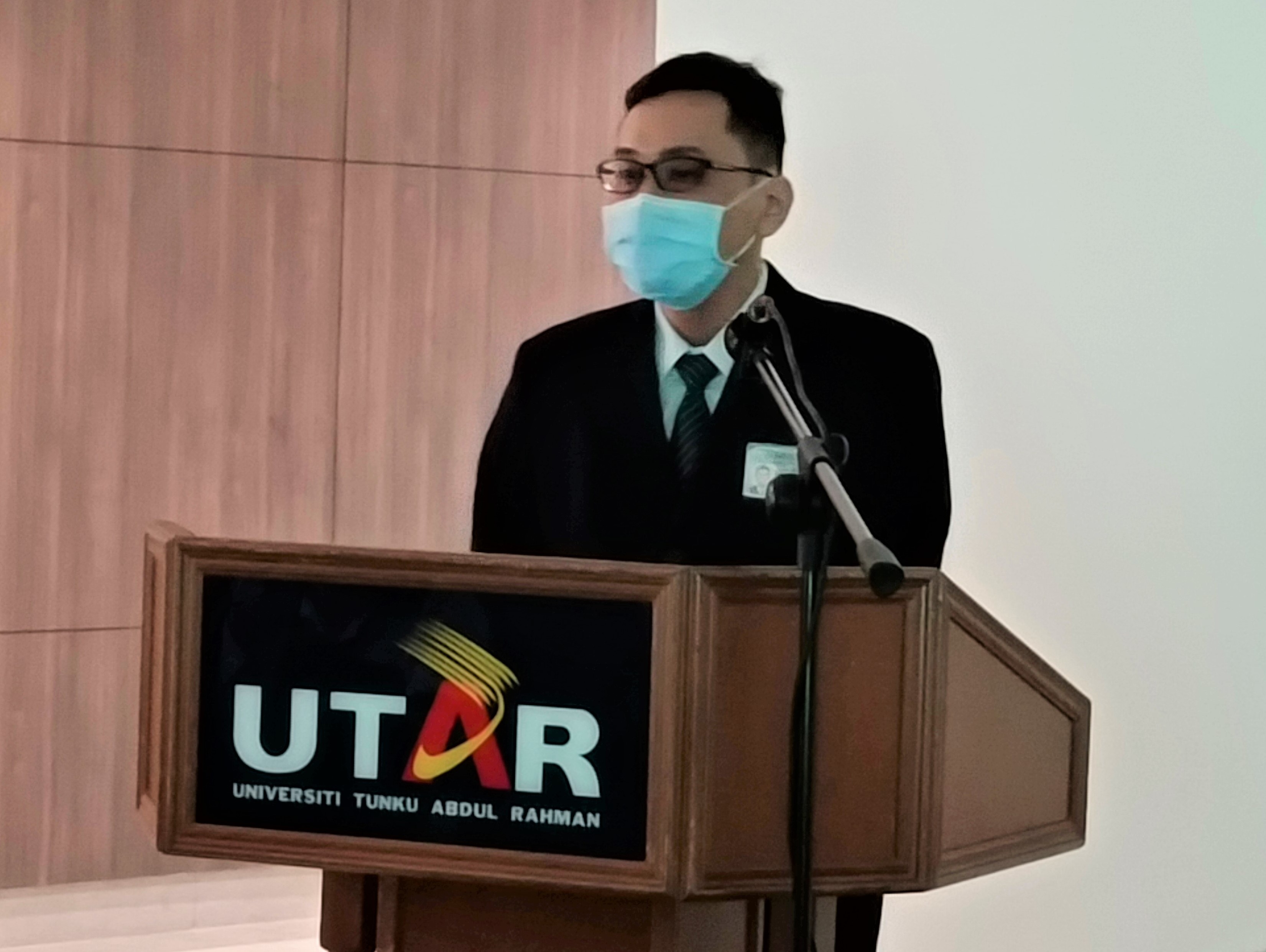 With many years of volunteering experience, Choo said, "Volunteers serve the community with a philosophy of gratitude, respect and love. It is a great honour for Tzu-Chi to be invited to participate in this hospital volunteer training. We had to postpone the original plan of working together due to the pandemic. However, we are very grateful to finally be able to make this initiative real. Our philosophy is similar to UTAR, especially when it comes to medical care, we all guard health, life and love. The establishment of UTAR Hospital will benefit not only Kamparian but also the residents of Perak and the whole country. We are very grateful to UTAR for establishing this medical system and looking forward to the future collaboration with UTAR and UTAR Hospital."
Following was a certificate presentation ceremony for five volunteers who had completed their 28 hours of services at the UTAR T&CM Centre. The volunteers took home a certificate and voucher each.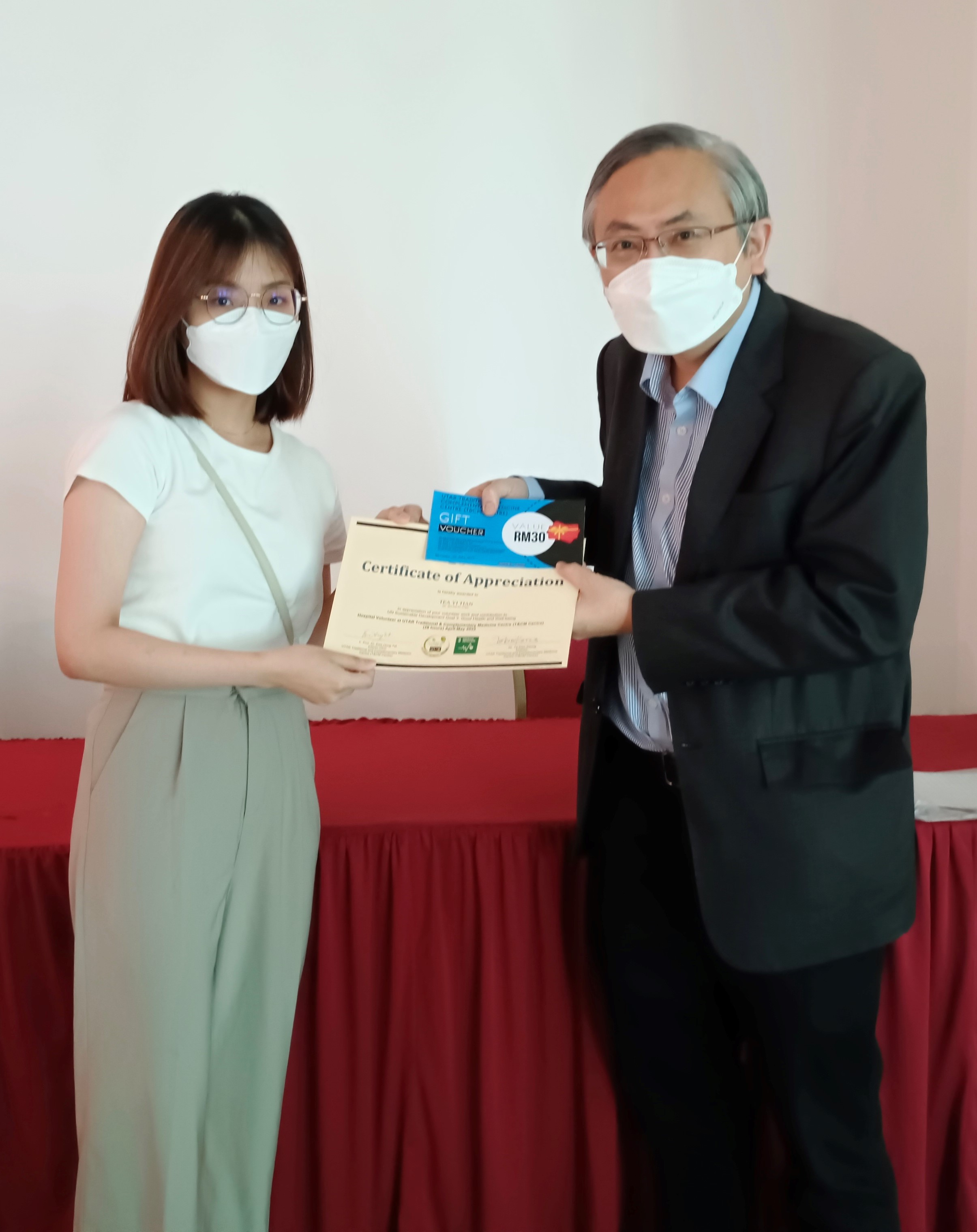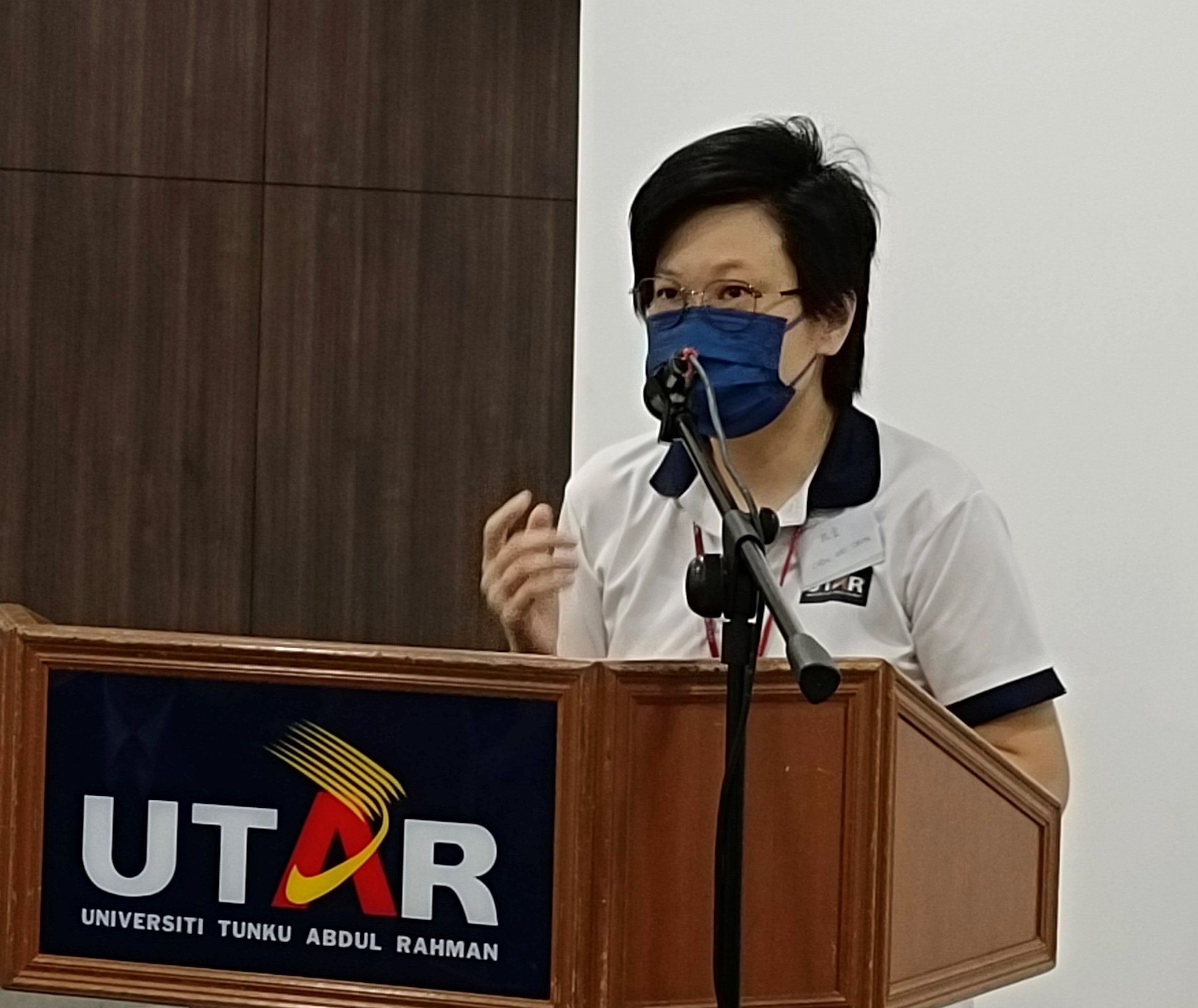 Centre for Foundation Studies of Kampar Campus Assistant Laboratory Manager Chew Kai Chin was one of the volunteers who completed 28 hours of services at the UTAR T&CM Centre. She shared her volunteering experience and said, "Thank you UTAR T&CM Centre for giving me the opportunity to be a volunteer again. Last year, I had the opportunity to volunteer in UTAR PPV, which gradually made me fall in love with volunteering service. I met so many people during my volunteering work; that inspired me a lot and widened my vision. I will continue to serve as a volunteer, 'to perfect oneself, to perfect others'."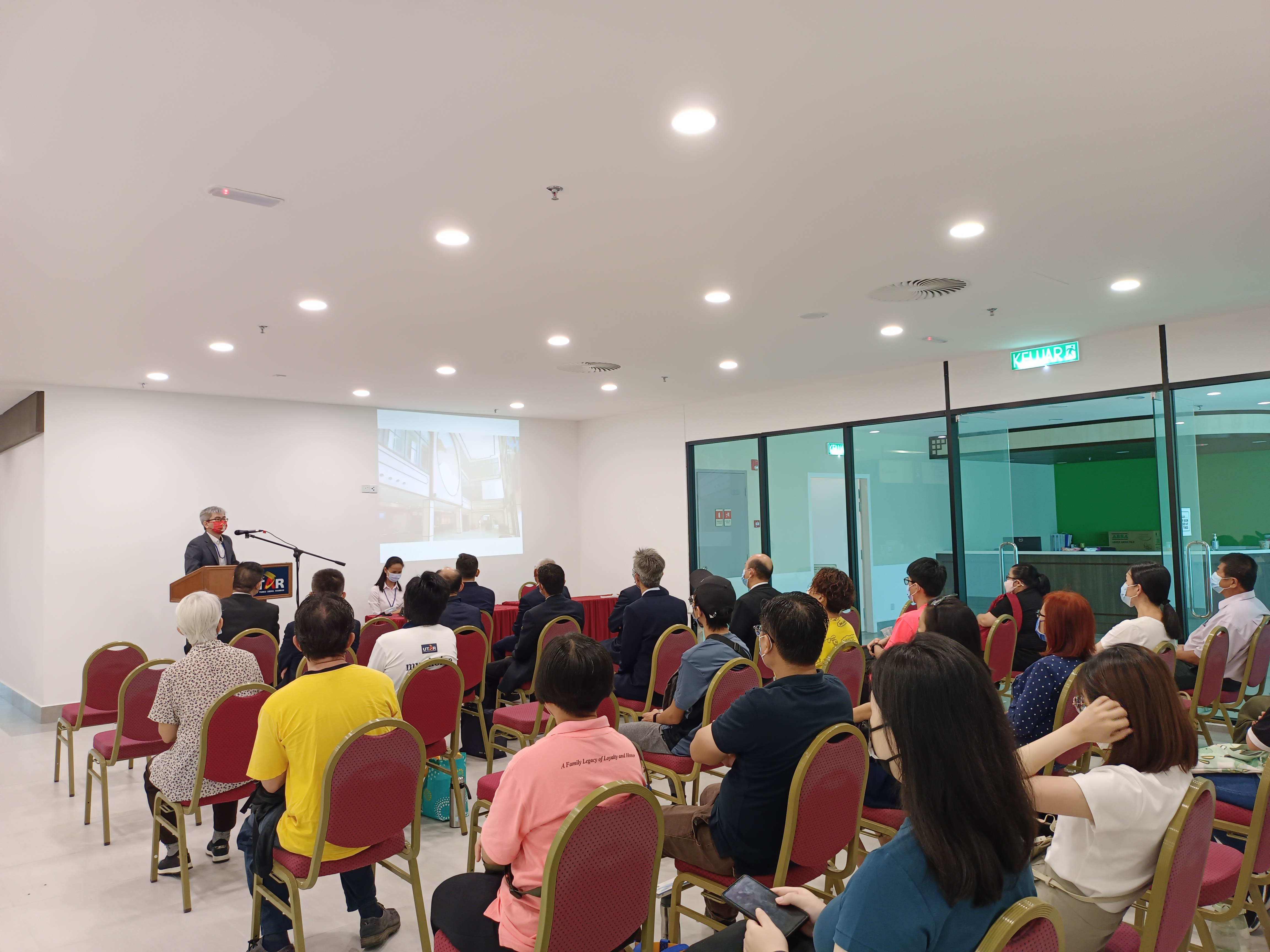 The training was conducted by UTAR T&CM Centre staff and Tzu-Chi volunteers. The topics included introduction to UTAR T&CM Centre; volunteer work content, volunteer ethics code; knowledge of traditional Chinese medicine, basic nursing knowledge; communication skills, and emotional and psychological support, to name a few.
Students, staff and the public are always welcome to join the hospital volunteers. UTAR students are entitled to claim up to 28 community service hours through the UTAR CARE Programme.